Heritage Windows
The REHAU Heritage Vertical Sliding Window system installed by Claxtons Home Improvements is designed to incorporate all the desirable traditional features of a timber sash window, yet with all the additional benefits and conveniences of modern PVC-U.

The REHAU Heritage Vertical Sliding Windows are the most distinctive and authentic-looking PVC-U sash windows available on the UK market.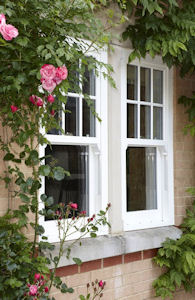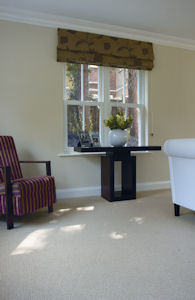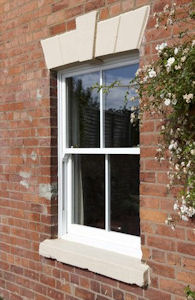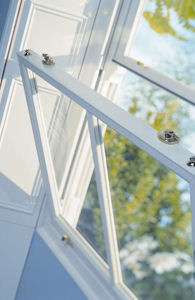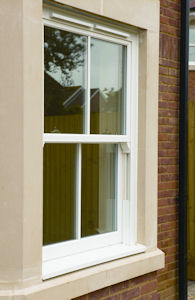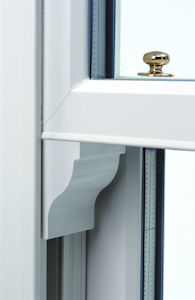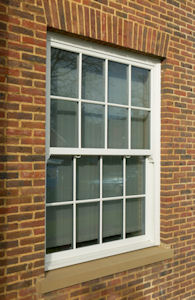 Our Heritage sliding windows offer a number of features and benefits including:
Noise reduction
The double-glazed sealed units considerably reduce outdoor noise levels, allowing you to relax in the peace and quiet of your home.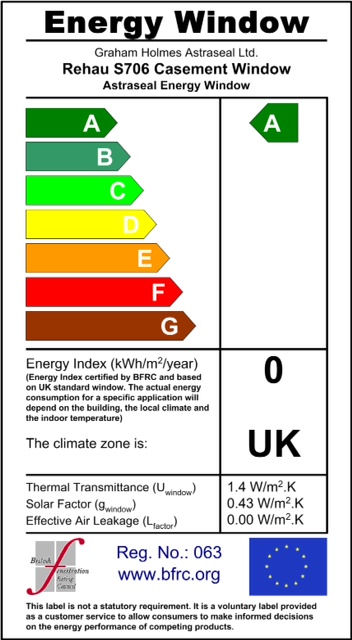 Energy efficiency
The REHAU Heritage system can achieve an A rating, the highest possible Window Energy Rating (WER), therefore reducing heat loss and keeping out draughts.

REHAU windows and doors will comply with Part L Building Regulations providing the correct glazing unit is used. For windows this requirement is an overall U-Value of 1.6 W/m2K and for doors 1.8 W/m2K.
Safety and security
The superb period look is backed up by a very modern approach to security. Our three-chamber sash profiles allow for even stronger reinforcements.
Low maintenance
Our systems contain a unique compound with a smooth gloss finish – guaranteeing they retain their pristine appearance. It also means they will never warp, rot or need regular painting.

Superbly engineered and of exceptional quality, REHAU Heritage windows will add real style to your home, guaranteeing maximum efficiency and performance for your investment.
Authentic & Distinctive
REHAU Heritage windows installed by Claxtons Home Improvements are designed with all the traditional detailing found in period sash windows, including a deep bottom rail, slim sashes and an optional Georgian bar. Successfully approved and installed in conservation areas across the UK and the Republic of Ireland, our Heritage Vertical Sliding Windows are suitable for any style of home.
Choose your style
Classic-style hardware and fittings and optional decorative horns replicate the traditional timber aesthetics to complete the stunning finish.

The slim sash is designed specifically to replicate the more elegant sightlines of traditional wooden windows.
Choose your finish
Our REHAU Heritage window system is available as standard in Classic White, Soft Cream, Rich Rosewood or Warm Golden Oak. There is also a choice of 19 special laminate options available, including the increasingly popular White Ash.

Further colour options from our unique REHAU Acryl II colouring system offer you a choice of 150 different colours.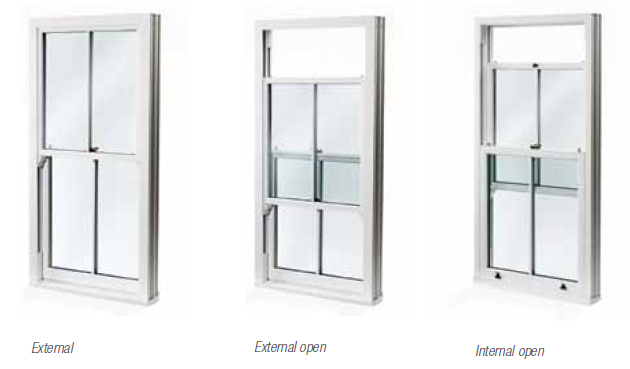 The system has two sashes built into the frame which slide in opposing directions and will remain in any position.

A sub-frame, which makes up three sides of the window, is the most popular configuration and is welded at the top two corners whilst mechanically joined at the bottom with a sill and screws.

The sill is sealed off at each end with an end cap to prevent water ingress into the walls of the property. The sub-frame can also be an all-welded construction with a clip-in sill. This detail is used in installations where stone sills are present.

The three-chambered sash profiles are designed with two front chambers to achieve good heat insulation and allow isolated drainage. The third chamber allows the fitting of specifically designed reinforcement sections.
Fitting Quality

Steel-reinforced sliding latches allow the sashes to be tilted inwards to enable the window to be cleaned from the inside of the property, yet the facility is concealed for aesthetic and safety reasons.

The latches can be locked off to prevent unauthorised tilting of the sash.

Standard balances of 14mm or 19mm diameter may be used, and it is also possible to fix all hardware into a specially designed steel or aluminium section for increased security performance.

Summary of options available with the REHAU Heritage system:
Stepped frame with either mechanically jointed sill or fully welded options
Supplementary profiles and seals, including Georgian bars
A comprehensive range of additional profiles via the REHAU Tritec 60mm casement system allow for easy and versatile installation options
Patented heritage-style horn replicates traditional timber aesthetics
A contemporary window style is available with the use of glazing bead profiles via the REHAU Tritec 60mm casement system.