Secondary Double Glazing
Perfect for any building where altering or replacing the existing window is not possible or cost effective. Secondary Glazing provides the ideal draught exclusion solution when existing windows cannot be replaced. Adding an extra slim-line window in addition to your existing windows, it also provides excellent sound proofing.

Suitable for homes, offices, listed buildings and protected areas.

Our range of secondary glazing systems have been developed for over 20 years to ensure that they offer:
the best secondary glazing for thermal insulation
the best secondary glazing for noise reduction
added security
condensation control
finishes & styles to suit all types of primary windows
years of robust, trouble-free service
a discreet, unobtrusive finish
Secondary double Glazing is a very cost-effective method of thermal insulation and soundproofing for all types of windows and doors.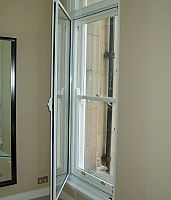 The Heritage Range
The Product

Without doubt the most versatile type of secondary glazing. Ideally suited to large glazed areas with minimal eight lines, the system offers a high level security with easy access to the primary glazing.

How It Works

A robust system with a broad range of glazing capabilities, they can be hung on either butt hinges or concealed stays and is secured by use of a multi point locking system actuated by a single handle anti – ligature detail and gear box. The ability to utilise Tilt and Turn gearing also increases the flexibility of use, giving high level ventilation and a secure night vent position, whilst retaining easy access to the primary glazing for cleaning and general maintenance.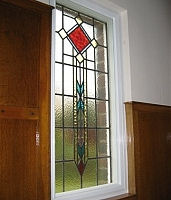 Lift Outs
The Product

Economically, the Lift Out is the most cost effective type of secondary glazing available. Its most common application is where limited access to the primary window is required, for example a window which has been installed with the sole object of providing light to a room.

How it Works

As well as economical, the Lift Out is also the most basic form of secondary glazing. As its name implies, it simply lifts out of the secured channel. For practical purposes, it is advised that the sash size be considered since the weight of glass must be of manageable proportions. Each sash is manufactured with a double brush pile seal, further increasing the thermal and sound insulation properties.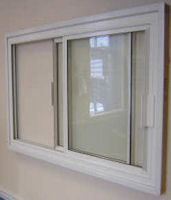 Horizontal Sliders
The Product

The Horizontal Slider is undoubtedly the most frequently used type of secondary glazing. Its uses are therefore widespread, being applied to high rise or low level commercial properties, historic buildings as well as all kinds of domestic dwellings. The Granada system provides sensitive solutions to the problem created by noise and sound pollution.

How It Works

Generally available in two, three or four panelled versions, the sashes are fitted with brass rollers, ensuring the smoothest sliding action. Twin brush seals provide excellent high sealing efficiency. This has been scientifically proven to eliminate draughts, increase thermal insulation and give greater improvements to the security of the primary windows. The security issue is further enhanced with the use of the latest locks and handles.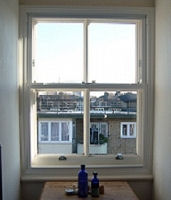 Vertical Sliders
The Product

Due to the characteristics of the existing primary window, the Balanced Vertical Slider is the most complex type of secondary glazing system. It is applied generally to older properties. It is particularly suited to the refurbishment and upgrade of the nation's architectural heritage.

How It Works

The individually pre-tensioned spiral spring balances control the motion of the sash, enabling infinite vertical positioning. This design provides ease of movement and has been specially developed to withstand decades of wear and tear. Tilt in versions can be pivoted through almost 180 degrees. This is especially useful for cleaning but just as importantly can be crucial when considering fire escape requirements.