Conservatories
A conservatory is a versatile addition to your home. Giving you the space to entertain, relax, or work and to allow your family to grow. Traditional, contemporary, simple or elaborate, we offer designs to meet everyone's needs, including a range of shapes and colours. We also provide accessories that give your conservatory a stylish finishing touch.

They can quickly and easily give you the additional space you need – for everything from relaxing and entertaining to providing an office or games room – at a fraction of the price of the traditional built alternatives. Claxtons Home Improvements Conservatories and Orangeries enable you to make the very most of the natural light and allow you to view your garden's natural beauty from the comfort of a well-heated structure.

Our bespoke Conservatories and Orangeries are the ideal way of adding space to your home. Whether your family has increased in size since you moved in or the amount of clutter you've collected along the way has crept up on you, we have a wide range of styles and sizes of conservatories to suit your home. Whilst catering for different budgets, our installations never compromise on style or quality, which means you'll receive fantastic value for money whichever design you eventually choose.

A PVC-U conservatory is a room for all seasons, designed for use twelve months of the year with solar control glass fully insulated floors and walls. PVC-U conservatories are available in a variety of colours. Made from a resin that's used extensively in construction for its tough exterior, PVC-U conservatory designs will weather even the most violent storms and are particularly adept at keeping cold draughts at bay during those fresh autumn and winter months. Conservatories are available in a variety of designs to suit your need, the Victorian, the Georgian, the Lean to, the Gable and the Lantern. T and P shaped conservatories provide for the larger project.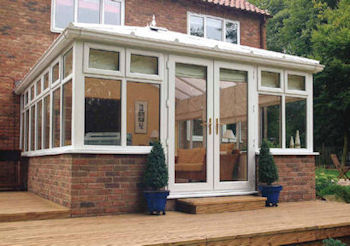 The Edwardian
The Edwardian style allows you to maximise your enjoyment and usage of the extra space created. Its square, flat fronted projection offers a clean-cut elegance and dignified simplicity that blends easily into the character of your home. Representing a perfect union of form and function, Edwardian conservatories offer the ideal way to extend your home in style.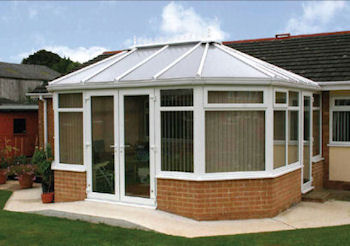 The Victorian
Inspired by Victorian design and architecture, complete with ornate cresting and finials, it's easy to see why the Victorian is one of the most popular styles of conservatory.

Thanks to its impressive versatility, the Victorian will complement most types of property, adding extra light, air and grandeur to your home. Available in 3 and 5 faceted versions, it is readily adapted to fit into whatever space is available - from a large garden to a small patio area.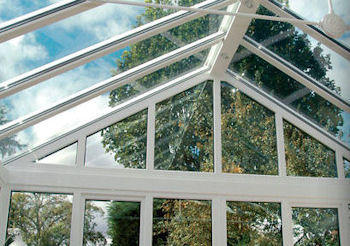 Gable Ended
Reminiscent of the grand orangeries of days gone by, few styles capture the proud architectural heritage of a conservatory quite like the Gable. Its stately presence works well in both old and new properties and, like the Edwardian, maximises the use of space to create an eye catching design from any angle.

The Gable conservatory enjoys imposing front elevations with the windows extending up to the apex of the roof. The additional light this brings will make your conservatory bright and airy and maximise the feeling of space inside.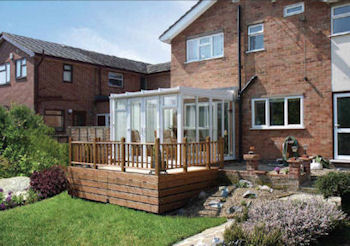 Lean-to
Stylish and cost effective, the Lean-to conservatory makes the best possible use of your available space, whilst providing a light and airy room for you and your family to enjoy all year round. Contemporary and minimalist, with clean aesthetic lines, the Lean-to creates a luxurious link between your house and garden at an affordable price.

Designed to run across the back of your home, the ends of your Lean-to design can be finished either vertically as gable ends, or be hipped back diagonally from one or both front corners.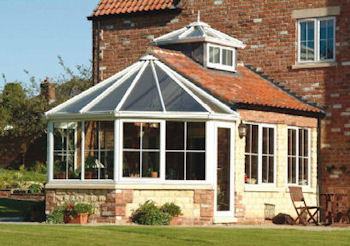 Specials/Lantern
Lantern roofs consist of a roof in two tiers. The different levels are separated by a row of small windows adding a feeling of height and presence to the overall structure. The use of glass rather than polycarbonate also increases light levels and gives you an uninterrupted view of the sky above.

If you are looking to increase the sense of interior space within your conservatory and you want to create a majestic visual appeal - a Lantern roof will give you the perfect finishing touch.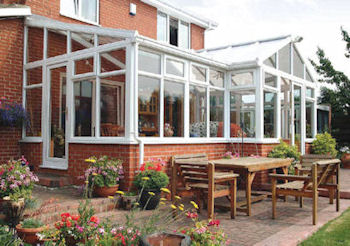 P Shaped
Combination and P-shaped conservatories offer you more space and greater levels of flexibility by combining two styles - such as the Edwardian and Lean-to - or by adapting an existing style so that it can be used in the shape of a "P".

The P-shape conservatory creates a multifunctional space with two distinctive areas which can be used however you desire. For instance, you might choose to use one area for dining and the other for relaxing, the choice and the flexibility is yours. In addition to the "P" shape, combination conservatories can also be used to create "T" and "B" shapes, giving you the greatest freedom to create the space you've dreamt of.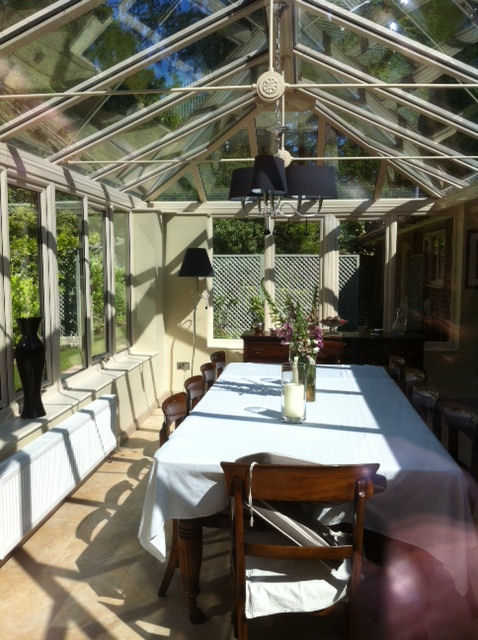 Orangeries
Imagine an elegant and comfortable room, a warm and bright space that is the envy of all. This is what an orangery will bring to your home. Relax in style on warm summer days and enjoy a feeling of comfort and warmth on long winter evenings.

Orangeries provide a unique multi-purpose living space for every home, from kitchen extension, living room, dining room or playroom. Our orangery uses the market leading Global roof with a well-engineered internal pelmet framework, which is then plastered, giving the roof a perimeter ceiling all the way round. Within this perimeter roof you can choose to add down-lighters or audio speakers, giving you the opportunity to personalise your new room.

The gutter line of the roof of the orangery is hidden from view by a decorative cornice that rises above the flat section and this cornice conceals the orangery gutter for a more attractive external appearance. A fully glazed conservatory might not be to everyone's taste, therefore the combination of traditionally built features and glazing of an orangery creates a more substantial and interesting effect.
Self Cleaning Glass
Long described as an impossible dream, self-cleaning glass is now a reality. After years of research and development leading glass manufacturer Pilkington has introduced the Pilkington Activ™ range of products. The range has products which combine both self-cleaning and solar control properties, making them highly desirable amongst homeowners looking for the ultimate in glass solutions.

Pilkington Activ™ Self-Cleaning Glass uses the forces of nature to maintain a cleaner and clearer appearance. In a dual-action process organic dirt is broken down by daylight and is then washed away by rain, thus making it environmentally friendly and very easy to maintain.

The benefits of Pilkington Activ™
The world's first self-cleaning glass.
Saves you time and money, and is safer than cleaning your own windows.
Unique coating breaks down and loosens organic soiling.
Even works on cloudy days and during the night.
Can be used in almost any external domestic application – ideal for conservatories,windows and replacement conservatory roofs.
The coating will not be worn away or rubbed off under normal conditions – lasts the lifetime of the glazing itself.
Easily cleaned during dry spells by hosing down or wiping with a soft cloth and warm soapy water.
Pilkington Activ™ helps reduce the visual appearance of external condensation.
Can be used in conjunction with other Pilkington glass products for example Pilkington K Glass™ to provide increased energy efficiency and help to reduce heating bills.
Created and manufactured by one of the world's leading glass brands – Pilkington.
Skypod® pitched skylights
In the past, most skylights have been made from aluminium. These are not only expensive, but the 'industrial' design is not to everyone's taste. That is why we supply Skypod® pitched skylights. As well as offering outstanding looks, it costs less – and provides the perfect match for your existing PVC-U windows and doors.

Skypod® is available in a wide range of sizes, so you can create a skylight that complements the individuality of your home. Skypod® is suitable for a wide range of projects such as flat-roofed extensions, orangeries, new builds, kitchen-diners and garage conversions.

Available in sizes up 2.75m x 7.75m*, Skypod® is ideal for roofs of all sizes.

Available in a choice of frame and glass colour options.

*Skypod® two-bar option can only be manufactured up to 1.5m x 6.5m